How Dubai's top hotels are repackaging its cultural heritage for a winter getaway like no other
How can Dubai top its own reputation as one of the most opulent destinations in the world? Tempus heads into the desert to find out
Dubai as a luxury destination. It's not exactly what you'd describe as a surprising concept. The Emirate state has been synonymous with elegant excess for the past decade. Like many of us, when I think of Dubai my mind travels immediately to the area's obvious feats of engineering – the world's tallest tower Burj Khalifa, the man-made Palm Jumeirah and nearby The World.
Recently, Dubai has been in the news as the new pulse of the BitCoin revolution, with Michelle Mone and Douglas Barrowman's £250m Aston Plaza residences ready for advance sale to buyers exclusively dealing in cryptocurrency. It's well known for its futuristic vibe, but as its famous five- star resorts become ever more accessible as holiday destinations, the question becomes how can this desert city retain its cutting edge reputation?
The answer lies in its cultural roots. As the rise in quality experiential and bespoke travel continues, there's a growing demand for authentic and offbeat experiences. After all, if you're travelling the world, why settle for the same experiences as everyone you know?
With a population of approximately 2.5 million (84% of whom are foreign-born), Dubai has positioned itself as a metropolitan melting pot. But its opulent and exciting nature can make it difficult to get any real sense of what this compelling part of the world used to be, aside from tourist-friendly souks selling handmade rugs and shisha pipes.
Enter The Ritz-Carlton Dubai which, since completing an extensive extension and renovation project in 2015, has also transformed its cultural position. Already a hotel brand that champions the customer (staff are encouraged to treat guests to a bespoke experience should they hear about a special occasion like a birthday or anniversary), now the Ritz-Carlton is celebrating Dubai's history old and new. »
Related: These 12 luxury hotel launches will awaken your wanderlust in 2018
* The Ritz-Carlton, Dubai's spa is a truly holistic experience
Located along the JBR walk in the heart of the Dubai Marina, the Ritz-Carlton, Dubai is ideally situated amid the towering skyscrapers and fragrant, oud-scented shopping hubs of the city's more cosmopolitan expat neighbourhood. Inside, guests will discover an oasis of cool marble and smooth structural lines, with Arabian touches adding a traditional feel to the modern space. This continues into the contemporary suites and rooms, where lush fabrics and geometric shapes warm the generous living spaces. The hotel's private beach leads down to the cool Arabian Gulf, with restaurants and bars dotted along the grounds, including the Palm Grill, and sophisticated pool club La Baie.
Contemporary dining is available at Italian restaurant Splendido and Blue Jade, an award-winning Asian eatery serving sushi, dim sum and mains like the outstanding sea bass in a ginger lemon sauce, served wrapped in a lotus leaf. There's also the brand-new London Social, which is the latest addition to Dubai's Friday boozy brunch tradition. For guests looking for that taste of authenticity, outdoor restaurant Amaseena serves up a buffet of traditional fare under private Bedouin-style tents, while live music and sweet-smelling shisha completes the experience.
The Ritz-Carlton, Dubai's spa is a truly holistic experience. Completely revamped, it now boasts 12 treatment rooms, relaxation lounges (including a sleeping room), a traditional hammam, hot and cold plunge pools and fitness centre – making it one of the most luxurious spas in the city. Of the treatments, the Arabia Felix I enjoyed provides a brush with tradition in the most indulgent way possible. Using regional ingredients of rose water, Dead Sea salt and camel milk, the treatment entails a traditional foot wash and exfoliation, followed by a full body and head massage using heated essential oils – pure bliss. »
Related: Bill Bensley's newest resort in Vietnam is a re-education in luxury
The hotel is also home to a number of pools and a private beach, alongside which guests can take part in activities including kayak tours and camel rides. While the resort has plenty to entertain, there's more excitement to be found outside its walls. See the emirate from a falcon's eye view with a tour by Seawings, the Middle East's only seaplane tour operator. Trips start with a thrilling water take-off before setting off on a journey that takes in Dubai's most iconic sights, including Burj al Arab, Palm Jumeirah and the city's incredible skyscrapers.
Another must-see is La Perle, a new Cirque du Soleil-style production masterminded by artistic director Franco Dragone. A multicultural acrobatic feat set in a theatre built specifically for the show, La Perle is not to be missed.
Into the wild
When you've taken in all the excitement the city has to offer, continue your exploration of ancient Dubai by heading out to the desert in style. Bab al Shams Desert Resort & Spa is a local luxury legend for families, honeymooners, and desert activity enthusiasts, situated just a 40-minute drive from the city. Set in an Arabic Fort, this sprawling low-rise sandstone complex could not feel further away from the glass skyscrapers of modern Dubai. An infinity pool looks out onto the desert sands, while rooftop bars facing east and west provide the perfect spots from which to watch dramatic sunrises and sunsets.
If the grandeur of nature doesn't impress you, the suites certainly will. Designed in Arabian style, with bare stone flooring and sumptuous throws and fabrics in dark reds and oranges, it feels like something out of a storybook, instantly soothing away the stresses of everyday life. Modern facilities, such as an espresso machine, mini bar, television and mobile chargers are hidden away inside elegant armoires. »
Related: Inside the luxury Dubai properties available to buy in BitCoin
* Another must-see is La Perle, a new Cirque du Soleil-style production masterminded by artistic director Franco Dragone.
Nestled in the dunes, Bab al Shams offers activities for even the wildest at heart. Archery lessons and falconry demonstrations are highlights, while an off-roading experience is an exhilarating way to see the desert and its wildlife up close.
For evening entertainment, Bab al Shams Desert Resort & Spa has pulled out all the stops for its desert dining experience at Al Hadheerah. Chefs man a 14-station buffet serving up delicious Middle Eastern dishes with flair, while between courses guests can explore henna tattooists, falconry teachers and other pop-up stalls. The open-air dining comes complete with performances by singers and traditional dancers – who have no qualms pulling you up on stage for a dizzyingly quick lesson in tanoura dancing.
It is, admittedly, all very kitsch, but it's great fun if you're on a family trip. For a more sophisticated evening try Masala, another of the resort's six restaurants, whose authentic Rajasthani cuisine is some of the best I've had outside of India (the classic murgh makhani comes particularly well recommended).
While the emirate is undoubtedly still pushing the boundaries of what contemporary luxury means, there's no fear that the UAE's cultural heritage will be left in the dunes as more hotels find that true indulgence lies in the rich traditions and one-of-a-kind experiences that only Dubai can offer with such extravagance.
Flights to Dubai are available from Emirates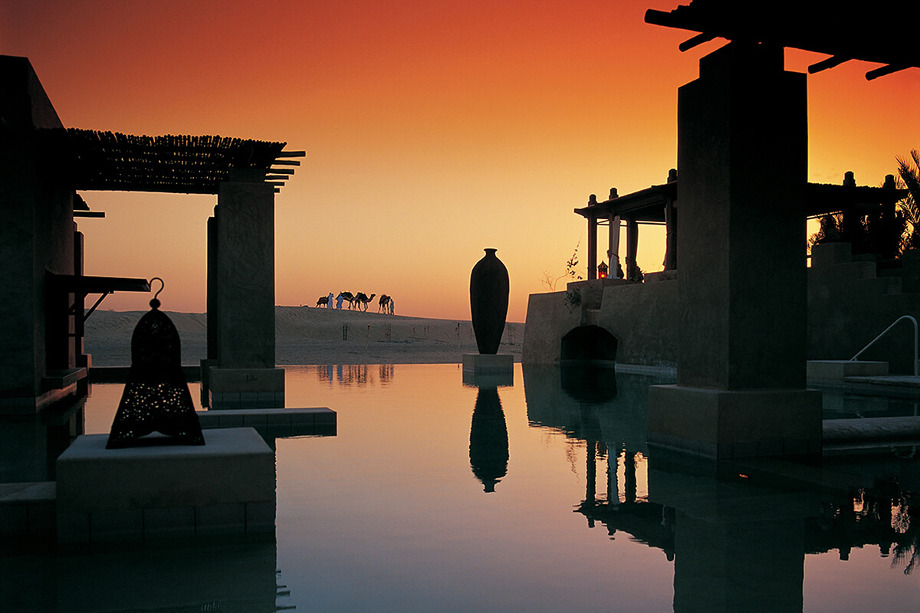 Article courtesy of Tempus Magazine
Written on January 3, 2018